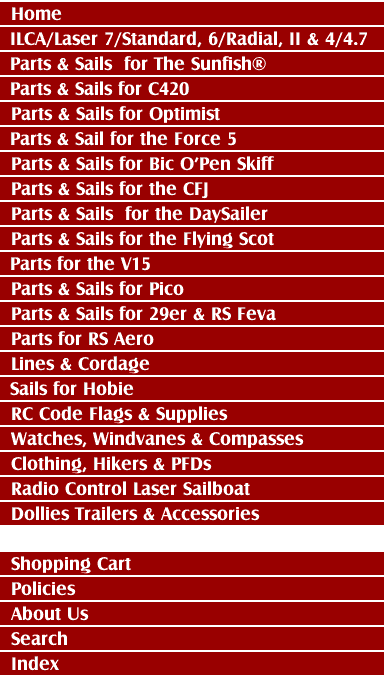 A great Opti sail for Club programs. Get more life from your fleet at a lower cost. This is a firm sail cloth that will stand up to a learning sailor's use.

Includes;

Sail Window

Yarn telltales with discs

Sewn in Battens

This sail does not have a class royalty button so is not class legal for Red, White or Blue class Opti racing.



12" Self Adhesive Digital 8
These are 8" wide by 12" tall. Suitable for a Full Rig, Radial & Sunfish sail. Simply cut to your numbers, peel off the back and press onto your sail.

Available in Black, Red or Blue

THIS IS SOLD INDIVIDUALLY. ORDERING 1 WILL ONLY GET YOU 1 NUMBER 8.





We list our current inventory in the shopping cart.

WE SHIP WORLDWIDE!

We charge the actual cost of shipping.

You may email us for a shipping cost estimate.

Send us email

intensitysails(at sign)gmail.com

US$10 MINIMUM ORDER