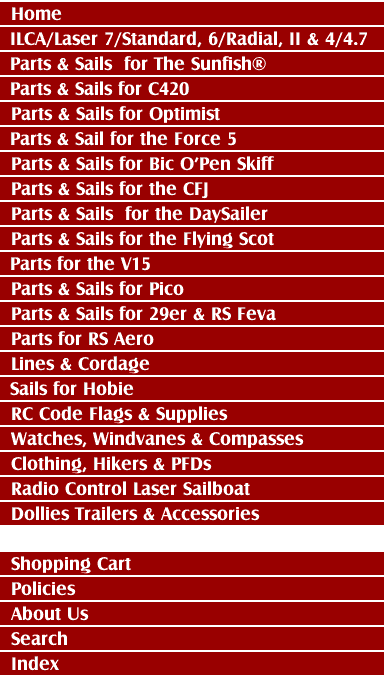 An Optiparts Club spar is the ideal training rig for beginner Optimist sailors. Constructed of 6000 Series aluminum, they are made for durability and longevity. They are designed with an attached sprit halyard block and use eye straps instead of pins and plugs at the mast head. Keeping the spar contained eliminates the constant cost of replacing parts.

***Does not include rigging kit – Please add EX1056 for rig kit***

Mast

OD 45mm wt: 2mm silver anodized

Stainless steel halyard block.

Stainless steel cam cleats halyard and downhaul

Nylon pin stop.

2 Stainless steel eyes for fixing the sail.

Plastic cap ends

Boom

OD 40mm wt 1.5mm silver anodized

Nylon in and out board end fittings.

Nylon outhaul cleat

Nylon fitting for downhaul and mainsheet.

Sprit

OD 27mm wt 1.5mm silver anodized.

Plastic ends

Chafe guard

Includes Mast, boom & sprit.



Opti Spars Rigging Kit
Club Spars Rigging Kit. Includes sprit halyard with floating harken micro block, vang, outhaul, bridle with ring, gooseneck preventor and sail ties set



We list our current inventory in the shopping cart.

WE SHIP WORLDWIDE!

We charge the actual cost of shipping.

You may email us for a shipping cost estimate.

Send us email

intensitysails(at sign)gmail.com

US$10 MINIMUM ORDER