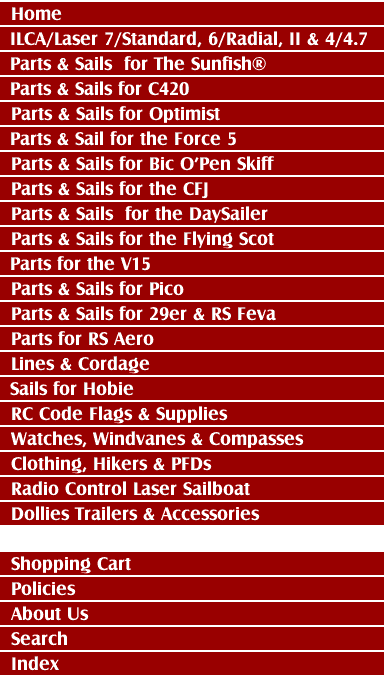 My daughters missed a week of sailing during the summer when the winds were up. They were just learning and the program was not set up to handle it. So we set out to make it easier and more fun for younger, lighter or more tentative novice sailors to get out on the water.

With this sail the kids can get going and gain confidence until they are ready to depower a full Opti sail and hike it harder. If we scare our kids early on we spend alot of time rebuilding their confidence. This R.A.D. (Reduced Area Design) sail can avoid the problem.




"The sail is fabulous. It will be useful for my son who is 10 and a little fearful. It is easy to rig up and can be rolled around the boom for stowage. I sailed it and was impressed with it's performance. Photos show an intermediate Optimist sailor in my son's boat. His father (Eric) had another Optimist to sail with him."

Ian Kirkwood

Adelaide Sailing Club- Australia

"Used the novice sail last Friday evening in a race of about 15 Optis. The girl using the sail was very inexperienced, weighed about 30kg and it was blowing about 8 to 10 knots. She got around the course no problem and finished mid-fleet of similarly inexperienced kids."

Nick Hutton

Hobart, Tasmania



Video of a light 7 year old in 15 plus knots of wind keeping up with the bigger kids in full sails.



12" Self Adhesive Digital 8
These are 8" wide by 12" tall. Suitable for a Full Rig, Radial & Sunfish sail. Simply cut to your numbers, peel off the back and press onto your sail.

Available in Black, Red or Blue

THIS IS SOLD INDIVIDUALLY. ORDERING 1 WILL ONLY GET YOU 1 NUMBER 8.





We list our current inventory in the shopping cart.

WE SHIP WORLDWIDE!

We charge the actual cost of shipping.

You may email us for a shipping cost estimate.

Send us email

intensitysails(at sign)gmail.com

US$10 MINIMUM ORDER