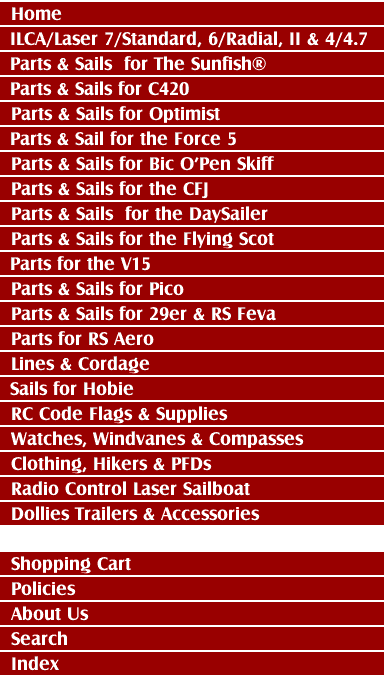 Large Wheel Dolly from Optiparts. Excellent for safely moving your Opti on land and in launching. Outfitted with the new Optiflex-lite puncture proof wheels. The new Optiflex-lite wheels are the ultimate in wheel design. Ultra light with a wide surface for use in sand. They will never go flat! EX1076 Large Wheel DollyThis is the one that the frame assembles and disassembles quickly into three easy to stow pieces without tools or frustration.

The BOW WOW (see pics) is an Optiparts exclusive designed to clamp the bow to the dolly in one quick movement. This prevents the boat from sliding off the dolly on a steep ramp. Available as a replacement kit for older dollies too. Stainless Steel skid protects the front foot of the dolly from wear. Also available as aftermarket kit. Stainless Steel spring clip for wheels

Advantages over other dollies dollies include: ∑ Well balanced so even a small child can move the boat. ∑ Softer vinyl padding, (less abrasive to the gel-coat), in contact with the hull Ė and more of it! ∑ Disassembled parts store in boat or other small area. ∑ The well engineered design allows the hull to fit upside down between the wheels while keeping the axel width the smallest available. This narrow width is a blessing when maneuvering at crowded regattas and narrow gangplanks. It also prevents sideways abrasion on the bottom ∑ Sturdy frame is anodized against corrosion and will be around long after you have left the Opti program. ∑ Large smooth tires donít collect mud and sand as others do ∑ No.

You cannot tow this dolly behind your car!



Opti Parts Dolly Padding Kit
The dolly padding kit consists of a foam tubing with nylon protectors and Velcro fasteners. It protects the hull and makes the surface slippery for easy launching. The padding runs over the full width of the dolly, so the middle is protected when turning the hull upside down.



We list our current inventory in the shopping cart.

WE SHIP WORLDWIDE!

We charge the actual cost of shipping.

You may email us for a shipping cost estimate.

Send us email

intensitysails(at sign)gmail.com

US$10 MINIMUM ORDER