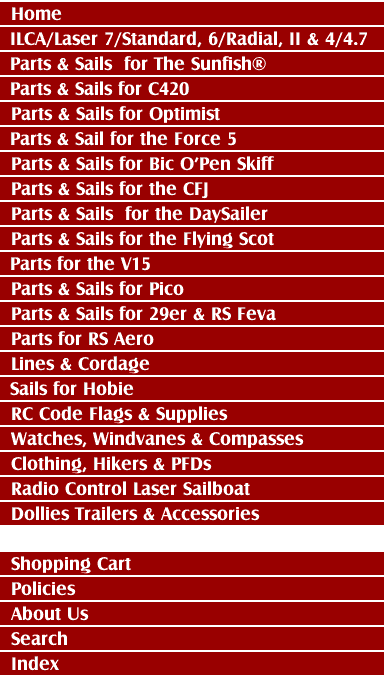 Made of a firmer Dacron than the Class approved sail for better wear. Cut to class dimensions using same panel sizes. The sail has the same feel as the approved sail. The top class sailors get one competitive season from a sail. Save that expensive class sail for the ILCA approved regattas. Use the practice sail for all other sailing. Double or even triple the life of your class approved sail.

Fabric is a 3.7 oz High Performance Polyester. A high performance dinghy fabric that has been custom resin finished to meet the characteristics of the Laser mast. (160gm European weight medium finish cloth) A great way to get that fleet out on the water and sailing without breaking the bank.

4.70 Sq Meters Sail Area

Includes; Sail ONLY with 2 each Red & Blue self adhesive Yarn tell tales. (No battens or bag)

See below for sail accessories

LIFETIME WARRANTY FOR WORKMANSHIP AND MATERIALS

NOT LEGAL FOR ILCA CLASS SPONSORED REGATTAS AND EVENTS.

Max Luff 4085mm

Max Leech 4540mm

Max Foot 2480mm

Laser® is the registered trademark of Vanguard Sailboats. Intensity Sails is not an authorized dealer or distributor of Laser® Sailboats, parts or accessories, or a licensee of Vanguard Sailboats. Vanguard Sailboats neither approves nor authorizes products sold by Intensity Sails, Which have not been approved by the Laser® class





Rolled Sail Bag
You can roll your sail up for storage with no creases and store it in this nylon bag.

Measures 112" X 12" when flat.

12" Self Adhesive Digital 8
These are 8" wide by 12" tall. Suitable for a Full Rig, Radial & Sunfish sail. Simply cut to your numbers, peel off the back and press onto your sail.

Available in Black, Red or Blue

THIS IS SOLD INDIVIDUALLY. ORDERING 1 WILL ONLY GET YOU 1 NUMBER 8.




Intensity Batten Set for ILCA/Laser Sails Fits ILCA7 Mk1 ILCA6 & ILCA4
These 3 battens fit all three types of sails for the ILCA/Laser. Mk1 Full Rig/7, ILCA6/Radial and ILCA4/4.7.

The inward caps all have a curved end cap that sits properly in the elastic end of the batten pocket.

Note; These battens are not ILCA Class Legal for Class sponsored events.



Intensity Clew Strap for the ILCA/Laser
Ever wonder why this little nylon strap with D ring and velcro is $20 some places? So did we. That is why ours is made just as well using black nylon webbing and velcro for much less!

Put the money you save into going to more regattas!



We list our current inventory in the shopping cart.

WE SHIP WORLDWIDE!

We charge the actual cost of shipping.

You may email us for a shipping cost estimate.

Send us email

intensitysails(at sign)gmail.com

US$10 MINIMUM ORDER