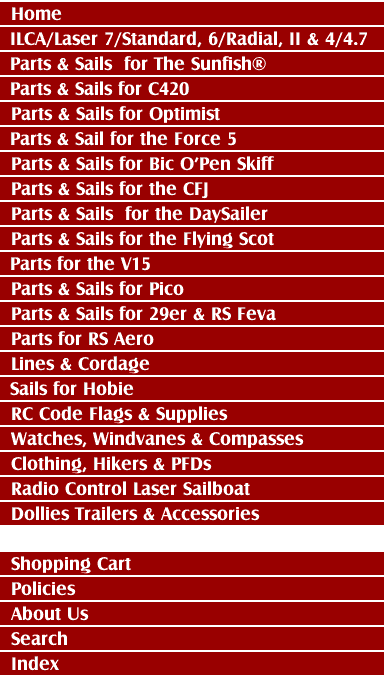 28mm Swivel Ball Bearing block for the aft end of the Sunfish boom. Vastly superior to the Racelite block. Sunfish Class Legal as it has been supplied with new Sunfish by LP.

CONVENTIONAL BALL BEARING DESIGN WITH LONG LASTING CHARACTERISTICS.

WORKING LOAD 330 LBS

BREAKING LOAD 2000 LBS

LINE UP TO 10 MM / 3/8"

SHEAVE DIAMETER 39 MM

WEIGHT 2.1 OZ




Intensity Batten Set for ILCA/Laser Sails Fits ILCA7 Mk1 ILCA6 & ILCA4
These 3 battens fit all three types of sails for the ILCA/Laser. Mk1 Full Rig/7, ILCA6/Radial and ILCA4/4.7.

The inward caps all have a curved end cap that sits properly in the elastic end of the batten pocket.

Note; These battens are not ILCA Class Legal for Class sponsored events.



Rolled Sail Bag
You can roll your sail up for storage with no creases and store it in this nylon bag.

Measures 112" X 12" when flat.



We list our current inventory in the shopping cart.

WE SHIP WORLDWIDE!

We charge the actual cost of shipping.

You may email us for a shipping cost estimate.

Send us email

intensitysails(at sign)gmail.com

US$10 MINIMUM ORDER