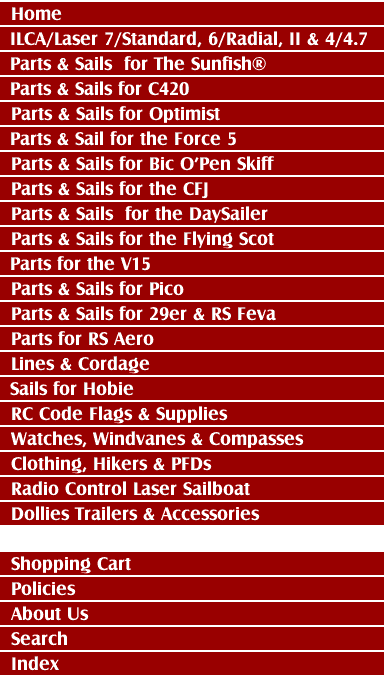 Here is our same race cut sail for sunfish with window but with some color.

Red white and blue panels.

PLEASE NOTE THAT THERE IS NO SUNFISH® LOGO ON THIS SAIL.

Sunfish® is the registered trademark of Laser Performance Sailboats. Intensity Sails is not an authorized dealer or distributor of Sunfish® Sailboats, parts or accessories, or a licensee of Laser Performance Sailboats. Laser Performance Sailboats neither approves nor authorizes products sold by Intensity Sails, Which have not been approved by the Sunfish® class

5 panel design

Comes Standard With Window

Material: Dacron

Luff: 13.25 feet

Leech: 13.25 feet

Foot: 14.25 feet



30 Pack of Plastic Rings for the Sunfish® Sail
The Sunfish® sail requires 29 so you get one spare.

12" Self Adhesive Digital 8
These are 8" wide by 12" tall. Suitable for a Full Rig, Radial & Sunfish sail. Simply cut to your numbers, peel off the back and press onto your sail.

Available in Black, Red or Blue

THIS IS SOLD INDIVIDUALLY. ORDERING 1 WILL ONLY GET YOU 1 NUMBER 8.





We list our current inventory in the shopping cart.

WE SHIP WORLDWIDE!

We charge the actual cost of shipping.

You may email us for a shipping cost estimate.

Send us email

intensitysails(at sign)gmail.com

US$10 MINIMUM ORDER