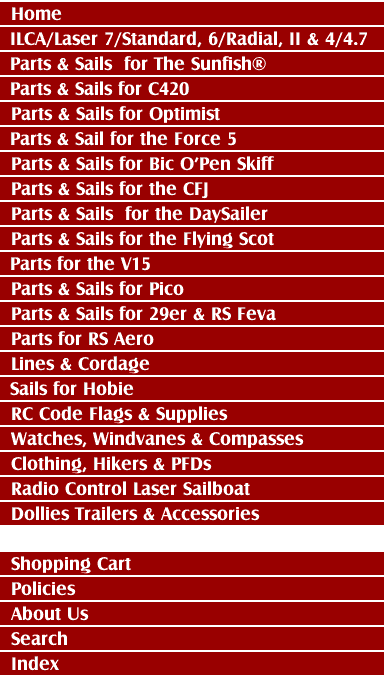 " through what appears to be clever engineering, only the loaded portion of the "floating" aluminum sheave comes in contact with the ball-bearing arrangement. This makes for smooth trimming and blazingly fast sheet runs at the weather mark and late dips" From Dave Reed's Sailing World Review

. Read the Sailing World Review of this Block

These are easy to use as the ratchet function engages automatically when there is enough breeze. The ratchet auto disengages in lighter air or when easing for the run. Unlike competitors this can also be switched on and off.

Now these auto/manual ratchet blocks come with a stainless steel swivel shackle for ultimate durability.








Sheave Diam. 2 5/32 in.

Max. Rope Diam. 3/8" / 10mm

Max. Working Load 550 lb

Breaking Load 1430 lb

Weight 2.8 oz



Read a review of this block





We list our current inventory in the shopping cart.

WE SHIP WORLDWIDE!

We charge the actual cost of shipping.

You may email us for a shipping cost estimate.

Send us email

intensitysails(at sign)gmail.com

US$10 MINIMUM ORDER