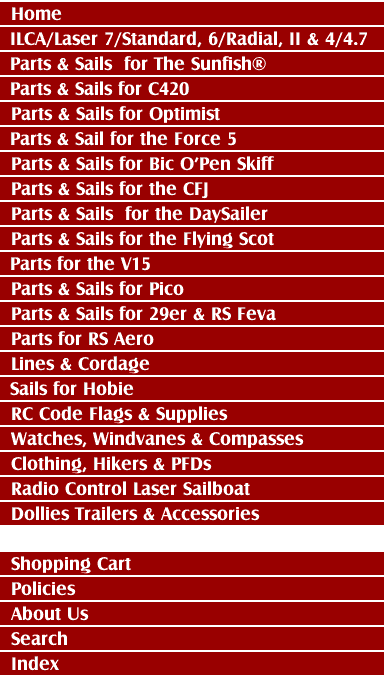 Most sailing program instructors spend a lot of time rigging and re-rigging their Optimist sails. We decided to make a sleeved sail that has the same cut and quality as the lace on sails and is full class sized but with a mast sleeve and boom straps so it sets up properly every time with no extra effort.

We tested this in sailing programs and to our surprise the kids even preferred the sleeved sail. This is not appropriate for a racing program but for instruction and learning sailors these are perfect. They are also made with a firmer cloth for durability and longevity.

includes battens installed in the sail.

This sail does not have a class royalty button so is not class legal for Red, White or Blue class Opti racing.



12" Self Adhesive Digital 8
These are 8" wide by 12" tall. Suitable for a Full Rig, Radial & Sunfish sail. Simply cut to your numbers, peel off the back and press onto your sail.

Available in Black, Red or Blue

THIS IS SOLD INDIVIDUALLY. ORDERING 1 WILL ONLY GET YOU 1 NUMBER 8.





We list our current inventory in the shopping cart.

WE SHIP WORLDWIDE!

We charge the actual cost of shipping.

You may email us for a shipping cost estimate.

Send us email

intensitysails(at sign)gmail.com

US$10 MINIMUM ORDER