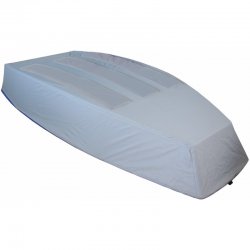 This gray sailboat hull cover will completely enclose your Optimist hull protecting it from the elements. Breathable Optimist bottom cover made of Moistureguard 2000. Quick and easy to install with a 6 mm shockcord in the skirt and 2 straps with quick-clip buckles. With 3 wide strips of thick foam in the bottom to protect the hull (even from concrete) while being rigged.

This sailboat cover is compatible with our Optimist deck cover if you want to completely enclose your boat.

Ships directly to you from the factory.